World Council Presents New Members at Annual General Meeting
BELFAST — Daniel Burns has been elected the Chair of World Council of Credit Unions' board of directors. Burns, who succeeded Anne Cochran (president and CEO of the Louisiana Credit Union League), formally took office during the World Credit Union Conference Annual General Meeting on Tuesday 19 July in Belfast, Northern Ireland.
"Our work has just begun. We now have a global message which we must take to the world organizations that can and may determine our common futures," said Burns. "I have never felt better about World Council's ability to affect positive change for the global movement than I do now; and I could not be more pleased and honored to contribute as Chair for the next year."
 
Other newly elected World Council directors at the 2016 annual general meeting Monday afternoon included:
1. Martha Durdin, Canadian Credit Union Association
2. George Ototo, Kenya Union of Savings & Credit Co-operatives Ltd.
World Council's 2016-2017 executive committee is as follows:
1. Chair, Daniel Burns, Canada
2. First Vice Chair, Patrick Jury, USA
3. Second Vice Chair, Brian McCrory, Ireland
4. Secretary, Manfred Dasenbrock, Brazil
5. Treasurer, Bruce Foulke, USA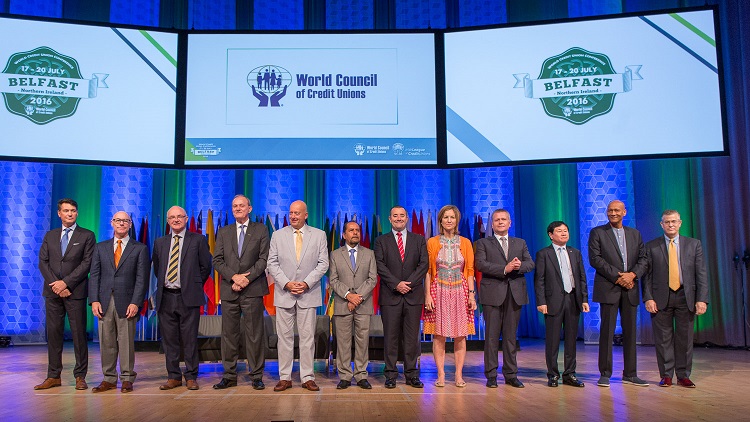 The 2016–2017 World Council Board of Directors (From left) 
Daniel Burns (Chair), Patrick Jury (First Vice Chair), Brian McCrory (Second Vice Chair), Manfred Dasenbrock (Secretary), Bruce Foulke (Treasurer)  followed by Directors Jaime Chavez Suarez, Mark Degotardi, Martha Durdin, Rafał Matusiak, Dr. Chul-sang Moon, Aaron Moses, Steven Stapp, and George Ototo (not pictured).  

 
World Council of Credit Unions is the global trade association and development agency for credit unions. World Council promotes the sustainable development of credit unions and other financial cooperatives around the world to empower people through access to high quality and affordable financial services. World Council advocates on behalf of the global credit union system before international organizations and works with national governments to improve legislation and regulation. Its technical assistance programs introduce new tools and technologies to strengthen credit unions' financial performance and increase their outreach.
World Council has implemented more than 290 technical assistance programs in 71 countries. Worldwide, 57,000 credit unions in 105 countries serve 217 million people. Learn more about World Council's impact around the world at www.woccu.org.